01 Mar 2022
Pros and Cons of Franchising: Should You Invest in a Franchise?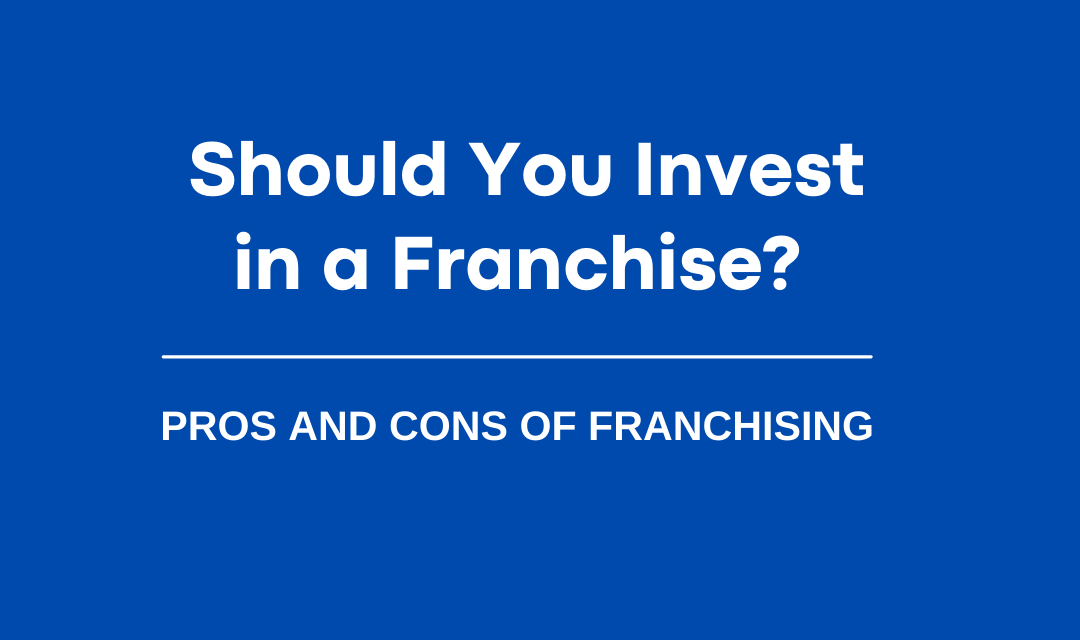 Perhaps you've always dreamed of owning your own business. You've got that entrepreneurial spirit and aspire to be your own boss. Question is, do you choose to be an independent business owner, starting from scratch with higher risks, or do you choose to follow a proven system with the support of a trusted and reputable franchise brand that has already done all the heavy lifting for you?
Franchising itself shows strong growth as an industry. Economically, the International Franchise Association forecasts that the industry will end 2022 with more than 792,000 establishments — gaining 17,000 new locations. The financial strength of the industry is just one of the advantages of buying a franchise.
To best evaluate whether the concept is a good fit for your business aspirations, let's take a look at the pros and cons of franchising.
You'll Love the Pros of Franchising
Franchising is attractive because it utilizes a proven model that has been tested throughout various markets and tweaked for success. In exchange for a franchise fee, you are given the rights to use a brand's business model and operational systems, trademarks and logos. Rather than building a business from scratch, your investment provides training, ongoing support and a marketing plan. Quicker ramp-up into business equals quicker profit potential. More benefits:
Pro: Franchising allows you to benefit from a brand name rather than putting in the heavy lifting of marketing and branding an independent, sole proprietorship. A well-known brand may provide an instant customer base from the get-go, because trusted brand names provide a certain level of quality and services that the public has come to expect. It may also mean staffing will not be difficult, as brand standards may be appealing to prospective employees.
Pro: Although there are no guarantees in business, being part of a franchise does give you the edge. Your franchisor is dedicated to your success. You have industry experts at your fingertips. Should you run into challenges or stumbling blocks, the franchise model is designed to give you the boost you need to keep operations running. Plus, there's a network of like-minded franchisees who can share best practices and support each other.
Pro: Growth possibilities like multi-unit franchising allow you to expand and grow by owning more than one location.
Pro: Although having some business acumen will prove advantageous as a franchise owner, many times there's no entrepreneurial experience necessary. The franchisor preps you for your grand opening and provides the training you need to understand the business and operate it on a day-to-day basis. Many franchises are prepared to help research site selection, assist through construction and licenses and permits, and get you through your grand opening and beyond.
Pro: As a franchisee, there is a high likelihood that you will benefit from group purchasing power. If your company is dependent on supplies, it's typical for franchisees to enjoy decreased pricing due to established contracts with vendors.
Pro: Franchising is a business. It takes work. But choosing the right franchise that aligns with your lifestyle, goals and expertise means you're the boss without having to do all the heavy lifting. With franchising, the old adage is true: You're in business for yourself, but not by yourself.
Pro: When it comes to the financials, you pay a franchise fee to get rolling in your business. According to the Federal Trade Commission, the regulating body for the franchise industry, the minimum amount of money to be paid as an initial franchise fee is $500, but many franchise fees can run $40,000 or more. For many franchisees, these are affordable prices compared to a start-from-scratch company. Plus, often a franchisor will be able to guide you to a third-party lender if you should need a loan to finance your business. You would not have this advantage as an independent business owner.
But Remember the Cons, Too
As you're weighing the pros and cons of franchising, this checklist can be food for thought.
Con: On the subject of money, in addition to the franchise fee paid to the franchisor, most franchisees will pay a flat fee or royalties for marketing and advertising. Continual fees may be seen as a negative, but remember, you are paying for services. Your marketing fee, for example, helps promote the brand and possibly your location. Royalties are paid for continued services and training from the franchisor to help grow your location and the overall brand.
Con: When you partner with a franchisor, they want to ensure you fit with the brand. They also need to ensure you can bankroll this investment. Franchisors require a liquid cash minimum amount and set a required net worth. This is to make sure you'll be able to keep your franchise operational until the profits come in.
Con: The concept of franchising is that you follow brand guidelines and adhere to the terms of the franchise agreement. If you're more of an out-of-the-box person, a franchise business may be too structured for you.
Con: Franchise agreements typically last 10 years; some are 20. Prior to signing a contract with a franchise, you need to be comfortable with the length of your business relationship and understand that after the terms are up, the franchisor may choose not to renew.
Con: Bad P.R. for the brand doesn't just affect corporate; it can trickle down to all franchisees, affecting your business. Keep in mind, there are qualified industry experts in place to mitigate the risks and do damage control for the whole brand.
Risks of Franchising
There is always risk in any business venture. However, when evaluating the pros and cons of franchising, it's important to remember that franchising provides a bit of a safety net for franchisees. You still have to do your homework. Research brands, look at their growth rate. Businesses that are trending and showing gains and stable growth are the ones to focus on. There is more risk investing in concepts that are fads, although that sometimes means a bigger potential payoff. If you're somewhat risk-averse, look for recession-resistant franchises. The economy is always fluctuating, but finding a brand that shows growth even when the economy isn't performing well means less risk for your investment.
Attend a Franchise Expo to Learn More
If you are still wondering about the pros and cons of franchising, consider going straight to the source. What may just seal the deal for you is attending a professional franchise expo where you can interact with franchisors, see what's out there and learn more about the industry.
Mark your calendar for March 31-April 1, 2023, for Franchise Expo West. This is a great opportunity to network and connect with large, medium-size and emerging franchise brands that are expanding in the Western United States.
MFV Expositions has been coordinating premier franchise events for more than 30 years. We provide the platform for franchisors to generate qualified leads and for prospective franchisees to discover the best brand for their business needs.
Attend an expo to take the next step in your franchise future.