01 Oct 2022
How to Prepare for a Trade Show Booth and Meet New Franchisees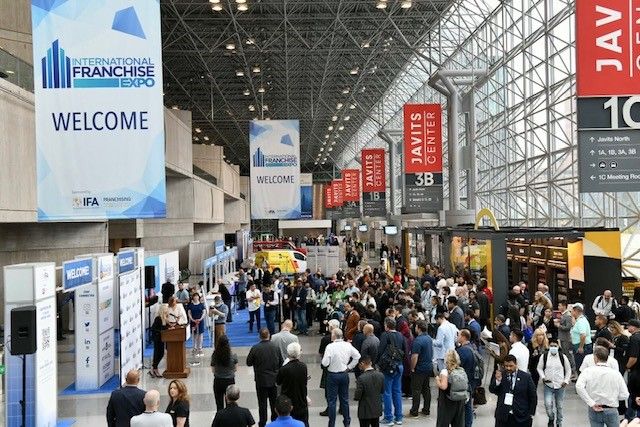 As a franchisor, you're often looking for ways to grow your company. Growing a company takes new prospects, and one of the best places to find them is at a trade show. Many trade shows bring in 1,000 – 2,000 attendees, with larger ones able to bring in 4,000 or more, over a two-day event. If you want to get your share of franchise prospects from a trade show, it's best to plan and prepare. Here's how to prepare for a trade show.
Plan and Prep Your Booth
As an exhibitor at a trade show, your booth is going to be the hub of your lead-generation efforts. To prepare for a trade show, you need to make sure your booth is eye-catching and enticing to attendees. Before the trade show, make sure you gather the materials you'll need for your booth. Make sure you're well-stocked with business cards, brochures, promotional materials, and any takeaways you're going to offer. If your company produces a product, consider offering free samples.
Arriving early to set up your booth ahead of time is a smart move. Once the trade show begins and attendees are walking the show floor, you need to focus on engaging with people. It's a good idea to decorate the booth in a way that grabs people's attention and advertises your brand. Interactivity is a good quality for a trade show booth. Consider having a giveaway, a raffle, or a small contest to bring in attendees.
Prep Your Company Reps
Your booth isn't the only thing you should prepare for a trade show. Your representatives staffing the booth need to be ready, too. Make sure they're well informed about your company and everybody's on the same page about how to answer FAQs from attendees. Your company reps should be ready to engage with people, and enthusiastically promote your company and its products and/or services. Make sure you send enough people to a trade show to staff the booth in shifts. That way they won't get burnt out talking with so many people, potentially losing qualified prospects.
Even outside the booth, your reps can do some networking. If they attend any franchise networking events at the show, advise them to ask about people's interests and experience while talking with them. They could also sign up to speak at trade show events to put themselves and your company out there where people can notice them.
Prepare to Follow Up
Meeting prospects at a trade show doesn't stop when the show's over. When you prepare for a trade show, you should also prepare for what comes after the show. Have a plan for following up with candidates who are genuinely interested in signing on with your company. During talks with prospects, make sure you and your reps take notes on them, such as questions you might not have been able to answer at the time, or what they're looking for in a franchise your company. Make sure that when you do follow up, you're prepared with something relevant to say, such as pointing out opportunities to open a location in or near their desired area.
Get a Booth at the Next MFV Expo
Our Expos help franchisors like you connect with enterprising entrepreneurs looking for companies like yours to join. We also hold educational programs and networking events to help franchisors and franchisees alike learn about franchising and make connections in many industries.
Now that you've got some tips on how to prepare for a trade show, consider becoming an exhibitor at the next Franchise Expo near you.