01 Apr 2022
How to Find Franchise Owners and Create Connections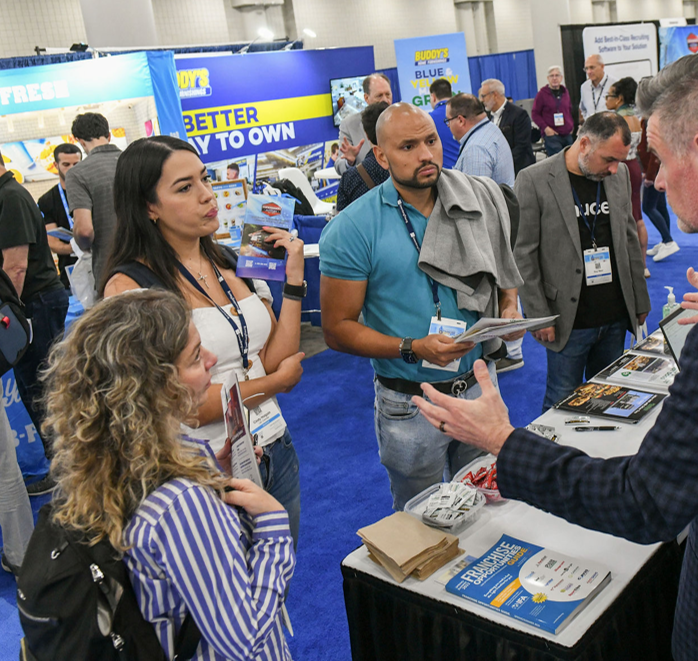 In order to grow a franchise, franchisors look for like-minded entrepreneurs who fit the brand to become franchisees. This is a constant part of franchise development. Perhaps the leads come to them through on-line inquiries or they seek them out through lead generating strategies that include franchise expos and conferences.
Before you find potential franchise owners to build the brand, have an idea of what you are looking for.
Qualities of Potential Franchisees
Across the board there are certain qualities you may set your sights on when finding potential franchisees. Look for those who:
Have an understanding of business overall and specifically your brand's industry.
Can work under the parameters of your franchise model.
Comprehend the financial commitment involved in franchising including your specific franchise fees and royalties.
Align with the culture of your brand.
Possess leadership and management skills.
Are passionate about owning a business.
How to Find Franchise Owners
Strategizing about how to find franchise owners can be challenging, especially for emerging brands. But there are many ways to make your brand stand out among the crowd.
First, you want to become an authority in what you do to increase brand awareness. If, for example, you are a landscaping franchise, you become the authority on lawn care, perennials, pruning shrubbery and when to fertilize. Your professional expertise is perceived as a resource. You can create blogs, webinars and even podcasts as a way to enhance your positioning. This imaging can not only assure your customers that you are knowledgeable, but it lets prospective franchisees take notice of the brand.
Another opportunity to maximize your brand to gain the attention of potential franchise owners is to utilize your online presence. A strong communication network is very appealing to a franchisee prospect. Ramp up your social media platforms like Facebook, Instagram, Twitter and LinkedIn. Organic and paid ads on social media are designed to cast a wider net, giving you an opportunity to be seen by a larger audience that may have otherwise never heard of your brand—this includes customers and potential franchisees. Directing them to your website for further information means they have taken the step from awareness to consideration—some prospects may decide to seek out further information, leading them to the conversion stage. Of course, this means you want a clear and concise website that contains easy to understand information about your brand and franchising opportunities.
Remember too, you have an effective recruiting tool with your current franchisees. This is a network of people who already believe in the brand. Training them to discuss the brand with qualified leads is another great strategy when you are trying to determine how to find franchise owners.
These strategies are important components to your overall franchise development plan. However, franchising is about making connections. It's a relationship between franchisor and franchisee. As great as your online presence may be, there's nothing like having an in-person conversation, looking eye-to-eye, shaking hands and really getting to know someone to determine if a prospective franchisee will be a good fit with your brand.
Perhaps one of the most valuable tools you have to find franchise owners is at a franchise marketing conference or franchise expo. This is an opportunity for entrepreneurs to have hundreds, even thousands of franchise brands at their fingertips to prospect, and for you as a franchisor to meet potential new owners. There's nothing like an in-person event to get a feel for whether or not someone will vibe with the franchise.
Just as they are sizing you up as a potential investment, you can pull out that list of questions to ask a potential franchisee, like:
What's your background/ experience?
Have you had leadership or management experience?
What do you know about our brand?
How much do you understand franchising, and the financial obligation?
What are your short-term and long-term goals?
What's your commitment to success?
Where would you like to locate your franchise?
Attend a Franchise Expo
Attending a franchise expo as a lead generation strategy is a must-do in franchise development. Host an exhibitor booth at the upcoming Franchise Expo South at the Ft. Lauderdale Convention Center in Florida September 9-10, 2022. It is the premier franchising annual event that connects franchisors, like yourself from across the nation, with new franchisee and master licensee prospects. This is the franchise industry's one-stop-shop event giving you the opportunity to meet with franchisee candidates and ask those important questions. Nearly 60% of attendees are there to meet with franchise brands like yours, providing the opportunity to increase your footprint and your brand's exposure.
MFV Expositions hosts a number of quality franchise expos throughout the year, designed to put you in front of prospective franchisees. Become an exhibitor at any of our expos as part of your brand's overall plan of how to find franchise owners.