20 Feb 2023
Spherion Honored with Reputation's 800 Award for High Customer Satisfaction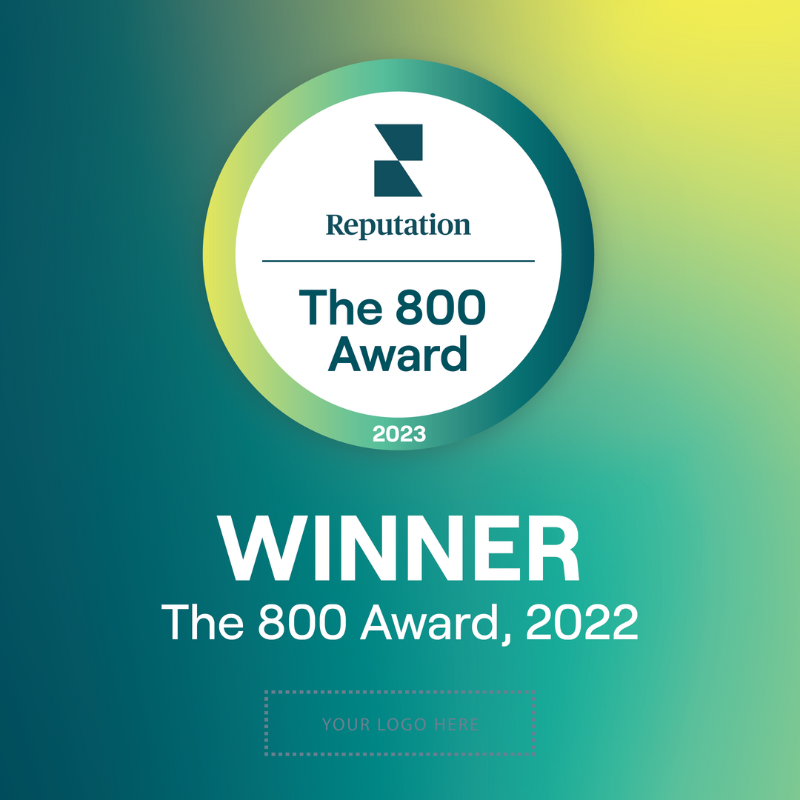 81 of Spherion's Offices Set the Gold Standard for What it Means to Be Customer-Centric
ATLANTA –Spherion Staffing and Recruiting (Spherion) announced today that Reputation, a global leader in reputation experience management, has recognized 81 Spherion locations with its 800 Award.
One of the highest achievements in reputation management that a business can earn, Reputation's 800 Award highlights business owners that put customer experience at the very core of their strategy, and are driven by the voice of the customer to succeed. Locations that win the 800 Award consistently collect, understand and apply any and all feedback to make data-driven decisions and ensure that the customer will have the best possible experience.
"One of Spherion's core values is 'We are engaged,' meaning our franchisees and their teams have a true interest in our employees' and clients' success," said Rebecca Rogers Tijerino, Group President of Spherion. "The 81 locations recognized with Reputation's 800 Award have proven they know how to build genuine relationships and go above and beyond to meet our client's needs. I'm proud of our Spherion franchisees for being recognized with this great honor."
To determine 800 Award honorees, Reputation pulls a list of the Reputation Scores for every business location on the Reputation platform. Those that are honored will have achieved a score of 800 or higher due to their focus on high customer satisfaction throughout the past year.
"We congratulate Spherion on its dedication to prioritizing customer satisfaction over the past year, as evidenced by the 800 Award honors given to their 81 offices," says Dave Mingle, Global Head of CX at Reputation. "Strong customer experiences are at the core of consistent business growth, and we are thrilled to see that Spherion is committed to listening to and taking action on customer feedback to make meaningful improvements."
The Reputation Score is a proprietary tool that measures review sentiment, volume, spread, recency, response, and length, along with brand reach and health, social engagement, business listing accuracy and search impressions.
For more information about the award, please visit reputation.com/800-award.
About Spherion Staffing & Recruiting
With more than 75 years of staffing and recruiting experience, Spherion stands out as a leader in the industry, leveraging the power of local to support its vast network of independent franchisees. True to its tagline, Let's Get to Work, Spherion provides workforce solutions to more than 4,000 businesses nationwide across its more than 200 offices. With recent awards, including recognition on Franchise Times' Top 500 list, Entrepreneur magazine's Franchise 500 list as well as the publication's list of 50 Franchise Companies Doing the Most to Champion Diversity, Spherion has a proven ability to cater to the ever-changing demands of America's workforce. Backed by the global leader in human resources, Spherion is prepared to provide workforce solutions through its General Staffing franchise model and Professional IT model to even more job seekers and organizations.
About Reputation
Reputation is the only platform that manages consumer feedback from acquisition to loyalty. Functioning as a business' eyes and ears in the spaces where customers talk, post, review, and recommend, Reputation analyzes vast amounts of public and private feedback data to uncover predictive insights for companies to act on and improve the customer experience. Backed by Marlin Equity Partners, Bessemer Ventures, and Kleiner Perkins, Reputation turns consumer feedback into fuel to grow businesses around the world. Visit reputation.com to learn more.