23 May 2023
Press Release: Angelina Bakery to Expand Franchise Over the Next Year and Beyond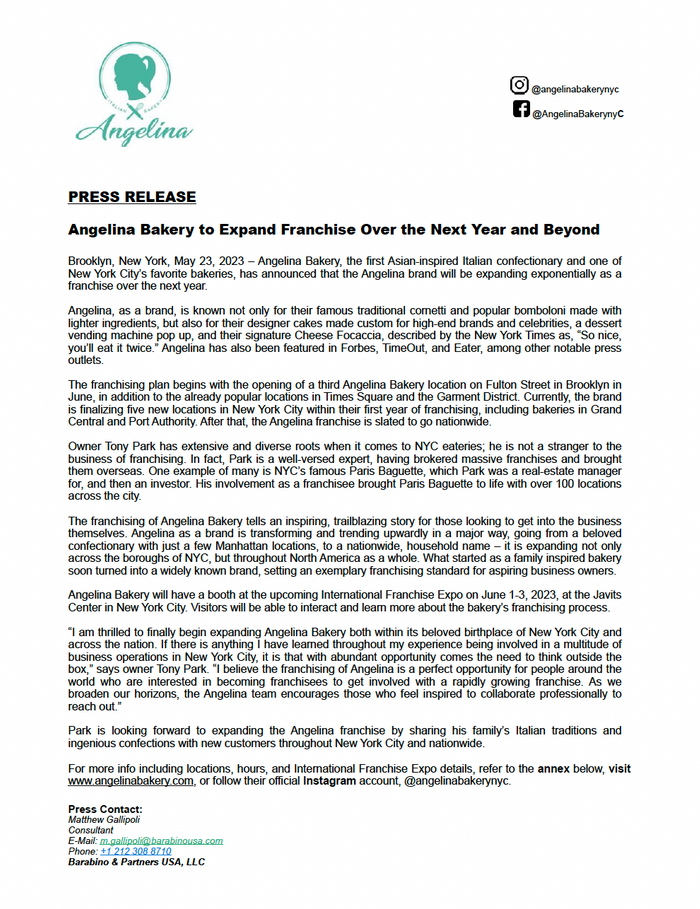 PRESS RELEASE
Angelina Bakery to Expand Franchise Over the Next Year and Beyond
Brooklyn, New York, May 23, 2023 – Angelina Bakery, the first Asian-inspired Italian confectionary and one of New York City's favorite bakeries, has announced that the Angelina brand will be expanding exponentially as a franchise over the next year.
Angelina, as a brand, is known not only for their famous traditional cornetti and popular bomboloni made with lighter ingredients, but also for their designer cakes made custom for high-end brands and celebrities, a dessert vending machine pop up, and their signature Cheese Focaccia, described by the New York Times as, "So nice, you'll eat it twice." Angelina has also been featured in Forbes, TimeOut, and Eater, among other notable press outlets.
The franchising plan begins with the opening of a third Angelina Bakery location on Fulton Street in Brooklyn in June, in addition to the already popular locations in Times Square and the Garment District. Currently, the brand is finalizing five new locations in New York City within their first year of franchising, including bakeries in Grand Central and Port Authority. After that, the Angelina franchise is slated to go nationwide.
Owner Tony Park has extensive and diverse roots when it comes to NYC eateries; he is not a stranger to the business of franchising. In fact, Park is a well-versed expert, having brokered massive franchises and brought them overseas. One example of many is NYC's famous Paris Baguette, which Park was a real-estate manager for, and then an investor. His involvement as a franchisee brought Paris Baguette to life with over 100 locations across the city.
The franchising of Angelina Bakery tells an inspiring, trailblazing story for those looking to get into the business themselves. Angelina as a brand is transforming and trending upwardly in a major way, going from a beloved confectionary with just a few Manhattan locations, to a nationwide, household name – it is expanding not only across the boroughs of NYC, but throughout North America as a whole. What started as a family inspired bakery soon turned into a widely known brand, setting an exemplary franchising standard for aspiring business owners.
Angelina Bakery will have a booth at the upcoming International Franchise Expo on June 1-3, 2023, at the Javits Center in New York City. Visitors will be able to interact and learn more about the bakery's franchising process.
"I am thrilled to finally begin expanding Angelina Bakery both within its beloved birthplace of New York City and across the nation. If there is anything I have learned throughout my experience being involved in a multitude of business operations in New York City, it is that with abundant opportunity comes the need to think outside the box," says owner Tony Park. "I believe the franchising of Angelina is a perfect opportunity for people around the world who are interested in becoming franchisees to get involved with a rapidly growing franchise. As we broaden our horizons, the Angelina team encourages those who feel inspired to collaborate professionally to reach out."
Park is looking forward to expanding the Angelina franchise by sharing his family's Italian traditions and ingenious confections with new customers throughout New York City and nationwide.
For more info including locations, hours, and International Franchise Expo details, refer to the annex below, visit www.angelinabakery.com, or follow their official Instagram account, @angelinabakerynyc.
Press Contact: Matthew Gallipoli
Consultant
E-Mail: m.gallipoli@barabinousa.com
Phone: +1 212 308 8710
Barabino & Partners USA, LLC

Annex Angelina Bakery current locations:
Times Square: 1675 Broadway, New York, NY 10019; Sunday - Thursday 8:00 AM - 11:00 PM, Friday - Saturday 8:00 AM - 12:00 AM
Garment District: 575 8th Ave, New York, NY 10018; Sunday - Tuesday 7:30 AM - 10:00 PM, Wednesday - Saturday 7:30 AM - 11:00 PM.
Downtown Brooklyn: 660 Fulton Street, Brooklyn, NY 11217