Once earned 150 rupees a month, became a millionaire by making dosa; Today there are restaurants in India and abroad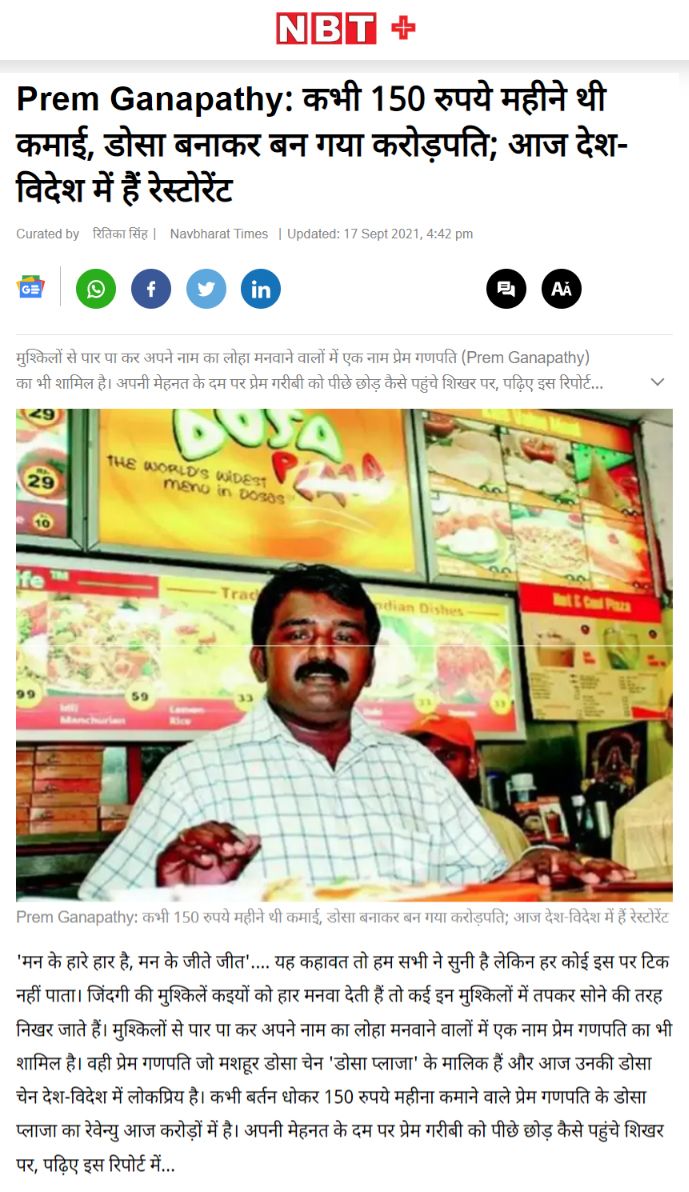 'Man ke haare haar hai, man ke jeete jeet'.... We all have heard this proverb but not everyone can stand on it. The difficulties of life make some people feel defeated, while many become shining like gold after facing these difficulties. One name of Prem Ganapati is also included in those who overcome difficulties and made their name iron. The same Prem Ganpati who is the owner of the famous dosa chain 'Dosa Plaza' and today his dosa chain is popular in India and abroad. The revenue of Prem Ganapati's Dosa Plaza, which once used to earn Rs 150 a month by washing utensils, is in crores today. On the strength of his hard work, how did Prem reach the pinnacle leaving behind poverty, read in this report...
Suffered the blows of poverty in childhood
Prem Ganapathy was born in a poor family in Nagalapuram, Tuticorin district of Tamil Nadu. He could study only till 10th standard as the family was very poor. Apart from the parents in the family, there were seven siblings including Prem. To help his family earn a living, Prem started doing odd jobs in Chennai from a young age, which earned him a total of around Rs.250 a month. He used to send this money to his home.
when they came to mumbai and looted
One day an acquaintance offered him a job in Mumbai promising a salary of Rs 1,200 per month. Prem Ganapathy knew that his parents would not allow him to go to Mumbai, so he left for Mumbai without informing them. It was in 1990 and Prem was only 17 years old at that time. But the same did not happen in Mumbai, as Kalpana had come with love. His acquaintance robs Prem of Rs 200, leaving him stranded in Bandra. Prem could barely understand any language other than his own and didn't know anyone in the city. He didn't even have the money to return, but returning was not an option, so he decided to stay back in Mumbai and try his luck.
Got the job of washing dishes the very next day
The very next day, he got a job washing dishes at a local bakery in Mahim, which paid Rs 150 a month. The good thing was that he could sleep in the bakery itself, so he had a roof over his head at night. For the next two years, Prem worked odd jobs in various restaurants and tried to save as much as he could. Being from Tamil Nadu, he was fond of making dosa and this hobby later came in handy.
Started own business in 1992
By 1992, Prem Ganapathy had saved enough to start his own food business. So he started the business of selling Idli and Dosa. Prem hired a handcart for around Rs 150 and bought utensils, a stove and basic ingredients for another Rs 1000. After that and set up shop on the street opposite Vashi train station. It was only in 1992 that Prem Ganapathy inducted his two brothers, Murugan and Paramasivan, into the business.
His stall was kept clean. He and his brothers used to wear pant-shirts and put bands on their heads, not wearing lungis like other dosawalas. Seeing the cleanliness there, people from all walks of life started coming there and enjoying the idli-dosa. The dosa and sambar recipes from Prem Ganpati's native place attracted a lot of customers. Soon, the business started flourishing with a net profit of around Rs 20,000 every month. He then rented a small place in Vashi, where he used to prepare all the ingredients and spices every day.
Many times the wheelbarrow was seized
But the road was still difficult. The municipal authorities seized the car of Prem and his brothers as the handcart did not have a license to do business by selling food items. Prem Ganapati's cart was confiscated many times and it was returned only after paying the fine. This cycle ended when he saved enough to open a restaurant.
Restaurant opened in 1997
In 1997, Prem Ganapathy and his brothers took a small amount of Rs 50,000 on lease in Vashi area and named it Prem Sagar Dosa Plaza. Its rent was Rs 5,000 per month. He also hired two people. The restaurant was frequented by college goers, some of whom became good friends. He taught Prem how to use the internet, which helped him get new recipes from around the world. Along with this, he also created the website of Prem Sagar Dosa Plaza. Soon, Prem Ganapathi started experimenting with dosas and the menu grew to 10-15 varieties of dosas. Slowly hard work paid off and by the year 2002, his turnover started touching Rs.10 lakh/per month. By then they had opened two outlets with a staff of 15 persons.
The launch of Fusion Dosa
In 1999, Prem Ganapathy thought of trying his luck by investing in a Chinese restaurant. But they suffered losses. But Prem did not give up and tried Chinese cuisine in his dosa. This fusion worked very well and then he invented the Chinese style dosa variety. Like American Chopsy, Schezwan Dosa, Paneer Chilli Dosa, Spring Rose Dosa etc. By the end of the year, Dosa Plan had 20-25 original varieties of dosa. By the year 2002, 104 delicious varieties of dosa were available in Dosa Plaza.
Dosa Plaza's first counter in Mumbai's Central Mall
By 2002, over 105 varieties of dosas were available at Prem Ganpati's Prem Sagar Dosa Plaza. His outlet had become very popular. With the passage of time, dosa got publicity. Prem Ganapathi wanted to make further progress. Mumbai's first mall was under construction at that time. The team there used to come for lunch at 'Dosa Plaza'. Prem Ganapathy became good friends with his project manager. He advised them to take up a counter in the food zone of the mall, for which they had to make a capital investment of over 3 lakhs. Prem Ganapathy decided to open a counter in the mall. They raised capital by borrowing from friends and acquaintances and waited for the mall to be completed. 'Dosa Plaza' became popular from the day the mall opened in 2003. In the very first month its turnover reached above 6 lakhs.
First franchisee outlet at Thane's Wonder Mall
As time passed, people started approaching him with requests to franchise Prem Sagar Dosa Plaza. The billing machine supplying company expressed their desire to take him as a franchisee to open an outlet of Dosa Plaza at 'Sign Wonder Mall' in Thane. Till that time Prem Ganapathy had no idea about the franchise. On getting information, he came to know that many fast food business chains of the world run on franchisee. They also started providing franchise of 'Dosa Plaza'. Prem and his brothers agreed with the condition that they would supply the dosa batter and other ingredients. The first franchise outlet opened in 2003 at Wonder Mall in Thane.
This is how stepped into the international market
In the year 2005, Dosa Plaza opened outlets in 7 different places in India. In 2007, it had outlets in 9 cities of India and now Prem Ganpati was venturing into the international market. Dosa Plaza had opened 23 outlets across the country. In the year 2008, Dosa Plaza marked its presence in Asia's largest mall. In the same year, Dosa Plaza ventured into the international market by opening an outlet in New Zealand. By this time there were 35 outlets in India. In 2009, Dosa Plaza had registered its presence in 12 states of India. A second outlet in New Zealand opened in 2009 and a third in 2010. In 2011, Prem Ganpati opened its first outlet in the Middle East in Dubai. By 2012, Dosa Plaza had grown to 4 outlets in the Middle East and 45 in India.