22 Feb 2023
New Nationwide Franchise Opportunities with Sticky Fingers Cooking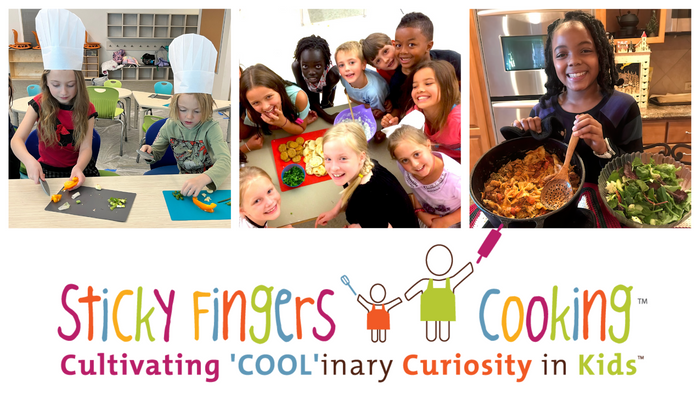 After a decade building success, leading children's cooking school, Sticky Fingers Cooking, franchises to 43 states and counting, offering a non brick and mortar, community-based business opportunity
DENVER, February 22, 2023 - A homegrown Colorado company with a proven recipe for success, Sticky Fingers Cooking, announced today that the company is now offering franchise opportunities nationwide. For the past 11 years, Sticky Fingers Cooking has ignited a lifetime love of healthy cooking and adventurous eating in over 100,000 children ages 3-18. Sticky Fingers Cooking operates in over 700 schools across Colorado, Illinois, and Texas, offering classes both in-person and virtually. Founder and CEO, Erin Fletter, is a mother-of-three who created this unique cooking school that operates in schools, camps, libraries, recreation centers, and even private homes. After expanding locations in Colorado, Texas, and Illinois, Fletter and her team decided that families around the country could benefit from franchising this work-from-home business.
View the full release here: https://www.businesswire.com/news/home/20230222005979/en/
Sticky Fingers Cooking offers after-school cooking classes for young chefs and now it's a franchise opportunity!
"You don't have to be a chef or experienced entrepreneur to run this exciting and successful educational business from your home," said Erin Fletter, Founder and CEO of Sticky Fingers Cooking. "Sticky Fingers Cooking combines the joys of kids, cooking, eating, nutrition, food, history, math, science, and global cultures, into one successful business model."
While the front of house at Sticky Fingers Cooking offers a kids cooking school, the back-of-house is a proprietary technology platform (Sticky Fingers Cooking Dash™) that makes running a successful franchise easy. The team spent 9 years developing and perfecting this platform to support every aspect of running a franchise business. In addition to scheduling, invoicing, automated payroll, and managing team members, The Dash also allows instructors to access Lesson Plans and schedules, enables families to register and access the recipes made in class. It also delivers weekly curriculum, shopping lists, and everything a franchise owner needs to get up and running so you don't miss a BEET.
"The Dash has been THE tool that empowers me to focus less on business administration time and spend more on growing my local business," said Lucy Warenski, Area Director of Sticky Fingers Cooking Chicago since 2013. "Sticky Fingers has developed a real recipe for success and I am thrilled that we are now offering this opportunity to entrepreneurs everywhere."
The Sticky Fingers Cooking executive and management team is 25 strong and offers in-depth franchise support. They have experience in leading a national business and have successfully operated 5 company-owned Sticky Fingers Cooking outlets, in 3 states, for 9 years. The team partners with franchisees by providing ongoing support, lists of select schools in their territory, contacts in each market, thousands of recipes, and a proven curriculum.
Franchise Details
Sticky Fingers Cooking franchises offer a non brick and mortar, run from home, low cost, flexible, and quick to start up business. Franchisees can be up and running 30-60 days after starting the business and completing training. The initial investment for a Sticky Fingers Cooking franchise is affordable, running from $77,428 to $125,279. Sticky Fingers Cooking provides investment and performance information that speaks for itself.
"Over the past decade we've created a home-based business with a proprietary technology platform, solid systems, on-going support, and a proven business infrastructure has led to success for our company owned outlets," added Erin Fletter. "Our expansion into Illinois and Texas with Sticky Fingers Cooking employees demonstrated that we can grow to new markets and offer families a chance to be a part of a culinary revolution. We hope you'll join us!"
About Sticky Fingers Cooking
Sticky Fingers Cooking has been cultivating 'cool'inary curiosity in kids' since 2011. Founded in Denver, Colorado, Sticky Fingers Cooking is a purpose-driven company that recognizes the value of fostering curiosity, independence, confidence, and the development of lifelong cooking skills through interactive and fun culinary experiences. They also believe that it is their responsibility to stand for social justice by seeking out equitable opportunities to offer classes to diverse communities across the country.
The company is now offering franchising opportunities in 43 states with more on the horizon. More information can be found at stickyfingerscookingfranchise.com and stickyfingerscooking.com.