15 Jun 2023
How to Prepare for Franchise Shows: 5 Tips for Wanna-Be Franchisees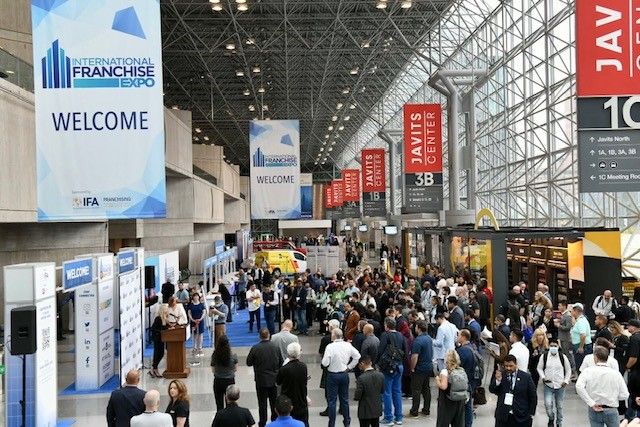 Franchise shows are a great place for ambitious businesspeople like you to learn about the franchising world: what markets are available to you, what franchises exist within them, which ones are struggling and which are thriving, and which ones have goals and missions that match with your own.
But these shows and exhibitions can be overwhelming to newcomers. There's a lot going on all at once, and nobody can see and do everything. It's important to be ready and have a game plan when attending these shows; that way, you'll get the most out of your time spent among the exhibiting franchisors and fellow franchisees. Let's look at a few general guidelines for making good use of your time during franchise trade shows.
Tip No.1: Always Go Prepared
Franchise shows are where both franchisees and franchisor exhibitors are looking to make good first impressions. Even as a franchisee prospect, you should do some prep work ahead of time.
First, make sure to get a copy of the show's directory and look it over before you attend. Franchise expos like those held by MFV Expositions put out directories of all the exhibitors. The number of exhibitors can differ, but it's not unheard of for larger shows to have several hundred exhibitors. As you look over the directory, consider which franchisors are ones you really want to visit. Make note of where the directory says they'll be during the expo and plan a time to visit them.
You should also prepare a list of questions that you want to ask your must-visit exhibiting franchisors. Some good general questions to ask any exhibitors include:
What are their startup costs and fees?
What sort of hours can you expect to work as a franchisee?
What qualifications do you need to join their brand?
What training and support services will they provide?
Do they offer exclusive territories?
Finally, make sure you bring something to carry handouts and business cards you'll get from the exhibitors you meet. A backpack, expandable folder, or other professional-looking bag are good options. You should also consider bringing some business cards of your own, so you can easily provide exhibitors and others with your contact information.
Tip No.2: Dress for Success
You want to put your best foot forward at a franchise show, so going there in shorts and flip-flops isn't going to do much to win exhibitors over. The best way to dress is business casual; clothes that look good and give off an air of professionalism while still being comfortable. Speaking of comfort, perhaps the most important part of your attire will be your shoes. Make sure you Wear. Comfortable. Shoes. You're going to get your steps in during one of these shows, so the last thing you want is to get sore ankles, falling arches, blisters, or other foot-related aches and pains.
Tip No.3: Be Ready for Short & Sweet Interviews
At a franchise show, there's a lot going on for everybody. These shows can draw thousands of attendees, and exhibitors need to keep the flow of interviewers moving to avoid missing prospects. It's a good idea to treat an exhibitor interview like a job interview; you're both there to learn about each other and determine if you'd be a good fit for their brand and vice versa. Be polite, personable, but upfront and to the point. Know which questions you need the answers to right away and which can wait for a follow-up. Speaking of follow-ups, make sure to let the exhibitors you talk with know when you're interested.
Tip No. 4: Know Who You're Interviewing
With the likelihood of several hundred exhibitors at a show, you should go armed with whatever knowledge you can find on your must-see list. Make sure to do your homework and look at their business websites. Checking business review websites for reviews from customers, as well as to compare them with their direct competitors.
Another thing to note is franchisors aren't the only ones exhibiting at franchising exhibitions. You may come across what are known as "business opportunities" and "multi-level marketing plans." These aren't the same as a franchise, and it's important to know the difference. A franchise involves the licensing of an existing business model, brand, and operational system from a franchisor to a franchisee. The franchisee gains access to a proven concept and ongoing support, and they must adhere to guidelines set by the franchisor.
When speaking with an exhibitor, make sure you know if they represent a franchisor or a business opportunity/marketing plan. It's perfectly acceptable to ask if they're a bona fide franchise, and to have them give you a brief overview of their business model and see their franchise disclosure document (FDD).
Tip No.5: Attend Additional Presentations
Franchise shows don't only host franchisor exhibitions. Most shows last a couple days, and in that time not only can you walk the show floor, you can also attend presentations from experts in various industries. You'd be wise to attend one or more presentations in the industries that you're interested in, or that may be connected to your chosen industry. These experts often provide advice on the best and latest business practices, growing market and industry trends, and news about upcoming or recent technological innovations.
Some shows may also feature industry workshops. Again, you'd be well advised to attend a workshop if you can. Not only will these workshops provide useful information for you as an enterprising franchisee, they'll give you an opportunity to meet other franchisees in the same field, helping you make connections.
Note that sometimes workshops come with a fee; when planning to attend a trade show, make sure to check the agenda for each day, select the conferences, presentations, and workshops that interest you, register for the ones that require pre-registration, and schedule your time at the show accordingly.
Attending a franchise event is something best done with forethought. Don't try to just wing it when you get there; get the info on which franchisors will be there, know who you want to interview and what you want to know, be polite but honest with your questions, plan to follow up with your best matches, and make sure to put aside some time for relevant presentations and workshops. A franchise event is a great way to get (and give) a first impression with a wide range of franchisors and make connections in various fields. Nobody can see everything there is at a franchise event, but you can, and should, make the most of it.
Attend the Next MFV Expo near You
We're eager to see you
attend the next International Franchise Expo
. MFV Expositions has over 40 years of experience bringing the franchising world together, and we want to help you connect with the franchisor that's your best match. Don't miss the opportunity to see over 300 franchise brands or choose from over 70 educational seminars and workshops.
Request attendee info
for International Franchise Expo 2024 today.